Copy Folder Structure and Contents in Google Drive
Consider John is a project manager of a company and has to create weekly reports covering various areas of the projects say revenue, resource etc., He uses Google Drive to manage the documents on the cloud so that he can jointly create reports along with his team mates.
He uses a standard folder template/hierarchy for his weekly report and wants to duplicate this folder structure every week. So he tries to make a copy of the folder in

Google Drive

but he's unable to do it. Why because that feature is currently not supported.
All he can do is manually recreate entire structure which is a monotonous task or use desktop app. Have you faced a similar situation? Want an easier solution which works online from any browser? Here's how.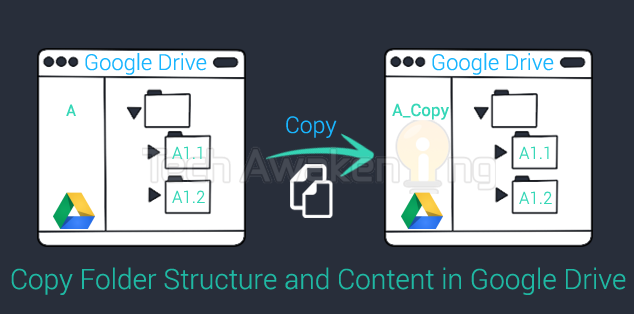 Copy Folder Structure and Contents in Google Drive with Google Script
Meet

GDrive Copy Folder script

which lets you

make copy of any Google Drive folder, duplicating the structure along with the contents in it. Below are the steps to get started.

1. Finding ID of the Folder You Want to Copy
Login into your

Google Drive

account.

Click on the folder you want to make copy of.

From browser address bar note down the unique ID which comes after folder/.

Example URL: https://drive.google.com/?authuser=0#folders/0B6y7rBwoHlSvaXBzdjk0OC1tN0k Folder ID:

0B6y7rBwoHlSvaXBzdjk0OC1tN0k

2. Installing/Using the Script
Click

here

to make a copy of the project. Next click Yes, make a copy link
Click

GDrive: Copy Folder menu

next to help. And select Authorize. Click OK then Accept. This is a one time activity.

In B5 cell copy, paste the folder ID which you noted down in previous step.

Finally select Make a Copy option from the menu.

Wait for few seconds. When the process has completed you will receive a success message.

Now check your Google Drive account, a new folder would have been created with _copy in it's name. Example: ABC Project_copy. If you wish to, rename it by right clicking.
You can easily extend this script even to

schedule/automate

this process so that copy of a particular folder is created at regular intervals. Please do drop in your comment if you want to know how.